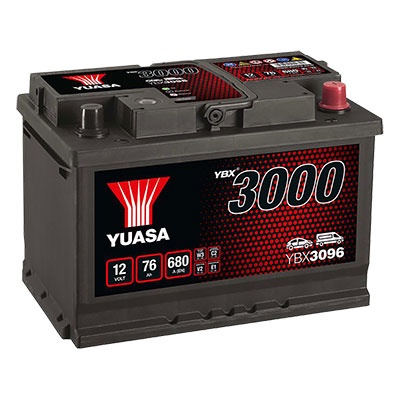 At a Glance
Up to 30,000 engine starts
For vehicles with standard power demands
Extra plates for higher starting power
Rollover proof lid for extra safety
Original equipment (OE) quality, performance & specification
Fully maintenance free
Supplied charged & ready to fit
Designed with enhanced safety features including integrated flame arrestor & carrying handles
This Yuasa YBX3096 12v 76Ah SMF Battery features specialist internal components, unique design features and cutting edge technologies to combat the causes of battery failure and deliver reliability, long life and superior performance.
They provide dependable starting power, exceptional corrosion resistance and the performance to handle the demands of today's modern vehicles.
This is also known as a type 096 battery.
Why choose Batterycharged? - 5* Feefo 'Platinum' Service Rating. Outstanding range and stock of batteries & chargers at competitive prices.
Can't find what you're looking for? In most cases we are able to trace your vehicle by accessing an online database. From here we can tell the make, model, engine size and equipment level of your car, mpv, 4x4 or van and match up the correct battery.
Call 03300 412187 and speak to one of our friendly advisors today.
Lines Open: 9:30am - 5:00pm Mon/Fri.

Yuasa are one of the world's largest manufacturers and suppliers of valve regulated lead-acid batteries with global manufacturing plants and an extensive marketing and distribution network throughout the UK and Europe.
Considerable investment in European manufacturing facilities, the establishment of a European network of 6 wholly owned companies, and the constant search by Yuasa to provide even more reliable power from smaller batteries, has resulted in the company's current position and proud claim to be No.1 in Europe!
The Yuasa battery range provides what is possibly the widest choice of types from a single source to meet most known applications from uninterruptible power source UPS and back up power, to security and alarm systems batteries and emergency lighting batteries.
If you are looking for a power source for Security and Alarm Systems; CCTV's; UPS Systems; Emergency Energy Lighting Systems; OEM electrical equipment;
Electronic applications or any area where there is a need for a reliable long-life power source.