Shield's range of 6 volt and 12 volt batteries for the classic and historic vehicle markets is second to none. These batteries are hand-made in the South of England by dedicated and skilled craftsmen using time honoured techniques and crafted to suit a huge range of historic vehicles.
One recent testimonial stated "Like my last one 14 years ago, this battery is a stunningly beautiful piece of industrial art form and a product which you should be exceedingly proud of. Thanks for being there and making these wonderful and classic things. I'm delighted"
If you need a battery for your treasured classic vehicle, you should look no further than Shield's Classic range. All Shield's Classic range are genuine hard rubber matching original manufacturers' specification. Classic batteries are supplied dry WITHOUT acid in order to comply with the Poisons Act 1972 (Explosives Precursers) (Amendment) Regulations 2018. Please take note of the safety instructions.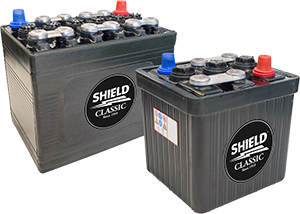 Period looking Hard Rubber cases
Modern Technology within the casing
If you cannot find what you are looking for, we have access to an extensive archive and from that we can advise what the original battery fitted to your classic would have been. Naturally, over the years, many classic cars have been sympathetically modified and we will do our best to help you select the correct battery for your classic.
Please feel free to contact us at your convenience – our friendly advisors are always happy to help.
Lines Open: 9:30am - 5:00pm Mon - Fri.