Welcome to our Crown product section
Based in Ohio in the American Mid-West, Crown have been manufacturing batteries since 1926. Battery Charged stock Crown's ranges of heavy duty deep cycle batteries.
Crown's ranges include 6 and 12 volt batteries that can be used in leisure, marine and industrial applications. Crown manufacture batteries with thicker and heavier plates to deliver long runtimes and extended battery life.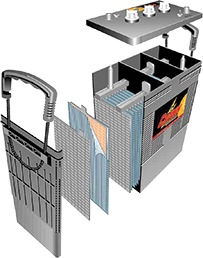 Crowns USPs include
Z3 Plate Construction
PROeye™ inspection system
Rigid connectors
X-TEND case design
Posi-Wrap™ Envelope Separators
Life Plus™ active paste material.
Please note that many of Crown's batteries are heavier than 30kg each owing to their extremely heavy duty design and construction. These will be shipped on pallets.
If you can't find what you're looking for, please feel free to contact us at your convenience – our friendly advisors are always happy to help.
Call 03300 412 187 and speak to one of our friendly advisors today.
Lines Open: 9:30am - 5:00pm Mon/Fri.