Welcome to our Yuasa Marine Battery Section
Yuasa YBX Active Marine batteries are ideal for yachts, motor boats, sailing boats and other water craft. Specifically designed to handle the rigours of wave pounding and trailer transport, they deliver reliable starting power. They incorporate advanced design features and specialist hard-wearing components for all marine applications.
Boat equipment electrical supply is crucial for onboard safety and comfort. Effective power supply is also critical for most operations including engine start, navigation, radio, GPS and lighting.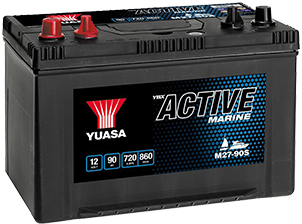 Features
Specially designed and built for marine starting applications
Vibrolock construction provides enhanced vibration resistance
Dual terminal
Supplied charged & ready to fit
Enhanced safety features
Fully maintenance free
Leak proof double lid
The Yuasa YBX Active range of superior quality marine batteries incorporate advanced design features & specialist hard-wearing components for marine applications.
Why choose Batterycharged? - 5* Feefo 'Platinum' Service Rating. Outstanding range and stock of batteries & chargers at competitive prices.
If you can't find what you're looking for, please feel free to contact us at your convenience.
Our friendly advisors are always happy to help.
Call 03300 412 187 and speak to one of our advisors today.
Lines Open: 9:30am - 5:00pm Mon-Fri.