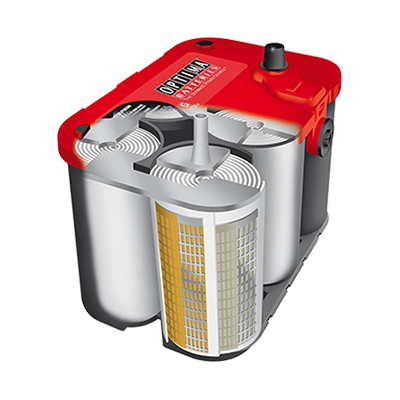 At a Glance
Strong starting burst
Up to two times longer life
More than 15 times the vibration resistance
Spillproof, mountable in virtually any position
Maintenance-free
Faster recharging
Optimal starting power
Works well as a motorcycle battery or truck battery
This RTU3.7 Optima® (8022-255) 12v 44Ah Redtop® Battery is the ultimate starting battery designed to deliver a powerful burst of ignition power for a reliable start-up every time, whether it's used as a truck battery, automotive battery, or for other applications.
The REDTOP® RTU3.7 will outperform and outlast traditional batteries in demanding cranking/starting applications. With impressive high-power delivery and extreme resistance to the most common causes of battery failure, the REDTOP is ideal for trucks, SUVs, hot rods, street cars and other applications that require a spillproof starting battery. Its reputation as a truck battery or automotive battery is unsurpassed.
If you have demanding electrical accessory loads such as winches, audio systems, and other devices, take a look at the YELLOWTOP® product line.

OPTIMA Spiralcell technology batteries were first developed in 1983 by Gates Rubber in Denver Colorada in response to the need for an advanced high performance battery system. In 2000, Johnson Controls Inc acquired the Denver plant and has since built OPTIMA into the World's premier AGM (Absorbent Glass Matt) battery technology.
All OPTIMA batteries feature patented Spiralcell technology. There are three revolutionary product types: RedTop, YellowTop and BlueTop; each serving a particular market requirement for high performance applications demanding the Ultimate Power Source.
As the world's most advanced power source, Optima Batteries are used extensively in more than 60 countries across the globe, providing power solutions across a broad spectrum of applications. Using the very latest developments in SpiralCell Technology, originally used in the lunar rovers, Optima Batteries not only consistently outperform all other types of battery currently available, but do so by considerable margins. Optima Batteries can be used in a wide range of applications from heavy play machinery, agricultural equipment and commercial marine through to classic cars, ICE, wheel chairs and golf buggies.