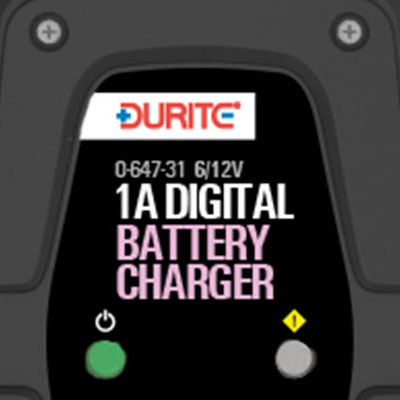 At a Glance
6 Volt & 12 Volt 1A output
Features 3 stage charging and micro processor control allowing the unit to be left permanently connected without harming the battery
Supplied with crocodile clips
CE approved
Durite® 6/12 Volt 1 Amp Digital 3 Step Battery Charger & Maintainer
6/12V 1Amp output. Features 3 stage charging and micro processor control allowing the unit to be left permanently connected without harming the battery. Supplied with crocodile clips. CE approved
This series of battery charger is widely used for a 6V/12V normal lead-acid battery which is used in a variety of cars, sports cars, sport utility vehicles, RVs, van, pickup trucks, motorcycles, snowmobiles, ATVs, motorboats, sailing etc. for charge and maintenance. The battery charger uses constant current mode and float charge mode.
If you're unsure what you're looking for, please feel free to contact us at your convenience.

Durite is the UK's leading brand in auto electrical parts for the commercial and general vehicle aftermarkets, including trucks and vans, marine, agricultural and leisure vehicles.
For almost 80 years, Durite has built an impeccable reputation, manufacturing and supplying high quality parts to the automotive aftermarket. Today, the Durite brand is synonymous with quality products and outstanding customer service.