At last! New in is Duracell's new range of Leisure batteries.
Manufactured with robust polypropylene cases and with carrying handles, you can rest assured in the knowledge that you have a high performance Duracell battery in your caravan or leisure craft. Using the latest advanced calcium technology, this power source meets the high demands that modern life can throw at it and is the ideal battery for your starting and on-board power requirements.
Duracell's Leisure Range are all approved by the National Caravan Council and each battery is certified to this effect.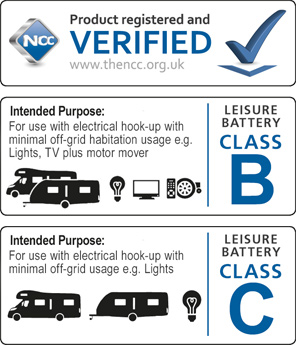 The quality of Duracell's world famous "Copper Coloured Top"
Approved by the National Caravan Council.
Use in Leisure and Marine environments.
Charge Level Indicator, Integral Handle.
Deep Cycle capabilities
Dual Purpose – maximum starting & on-board power.
Maintenance Possible – Not Impossible!!
If you can't find what you're looking for, please feel free to contact us at your convenience – our friendly advisors are always happy to help.
Call 03300 412 187 and speak to one of our friendly advisors today.
Lines Open: 9:30am - 5:00pm Mon/Fri.