EFB- and AGM- Technology for stop-start vehicles.
The Duracell Extreme is built for use in environmentally friendly cars which incorporate the stop-start function.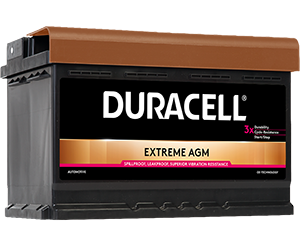 The EFB (Enhanced Flooded Battery) is used primarily in medium, small cars and LCV that have only basic stop-start features.
The AGM (Absorbent Glass Mat) battery is mainly used on medium and executive/luxury vehicles, where more complex stop-start functions together with brake energy recuperation are standard.
The Duracell Extreme premium products meet the demands of leading car manufacturers, and with a range of five types from 60Ah to 92Ah are the first choice for fuel efficient cars.
Can't find what you're looking for? In most cases we are able to trace your vehicle by accessing an online database. From here we can tell the make, model, engine size and equipment level of your car, mpv, 4x4 or van and match up the correct battery.
Call 03300 412 187 and speak to one of our advisors today.
Lines Open: 9:30am - 5:00pm Mon/Fri.