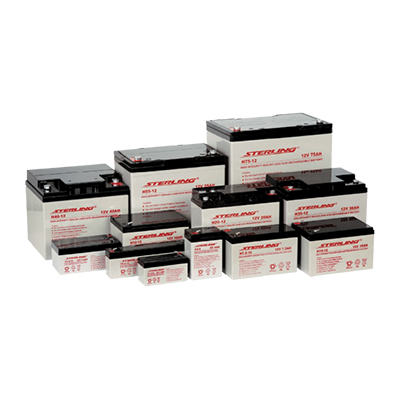 At a Glance
Superb recovery from deep discharge.
Gas Recombination.
Multipurpose: Float or Cyclic use.
Lead calcium grids for extended life.
This HP18-12 Sterling 12v 18Ah SLA Battery is the perfect replacement for many applications including: stand-by power, emergency lighting, phone systems as well as many other applications.
Sealed Construction
Sterling's unique construction and sealing technique ensures no electrolyte leakage from case or terminals.
Electrolyte Suspension System
This HP series battery utilise Sterling's unique electrolyte suspension system incorporating a microfiber glass mat to retain the maximum amount of electrolyte in the cells. The electrolyte is retained in the separator material and there is no free electrolyte to escape from the cells.
Control of Gas Generation
The design of the HP series battery incorporates the very latest oxygen recombination technology to effectively control the generation of gas during normal use.
Valve Regualted Design
The batteries are equipped with a simple, safe low pressure venting system which releases gas and automatically reseals should there be a build up of gas within the battery due to severe overcharge. Note. On no account should the battery be charged in a sealed container.
Typical Application Types:
Power Sources

Automotive

Agricultural

Back-up power
Computers
UPS Systems

Electronic memory
Braking/Fuel Systems

Live stock/Game feeders
Containment fencing

Communications

Recreation

Military

GPS equipment
Marine communications
Telecom Systems

Fish finders/locators
Ride-on toys
Electrical bicycles/scooters

Aerospace
Aircraft instrumentation
Fire control systems

Lighting

Portable Equipment

Security Systems

Emergency lighting
Exit lights
Hand held lights

Audio-visual devices
Test and measuring equipment
Consumer electronics

Burglar/Fire Alarms
Monitoring systems
Metal detectors
Can't find what you're looking for? Not sure which product you require or need extra help selecting the right one?
Call 03300 412 187 and speak to one of our friendly advisors today.
Lines Open: 9:30am - 5:00pm Mon/Fri.

Sterling's high integrity valve regulated lead acid (VRLA) batteries operate as a starved electrolyte system, in which the electrolyte is limited to the amount that either is absorbed in the batteries plates or wets the fibres in the separator.
The resulting system allows gases produced during overcharge to diffuse from one plate to the other and to be recombined back into the electrolyte. This recombination creates a closed system, thus reducing the release of gases into the atmosphere under normal discharge conditions.
Since the electrolyte is recycled, there is no need to add water to the batteries. This reduced maintenance leads to longer-life battery in a clean and compact container that can be installed when flooded batteries are impractical.