Duracell Car Batterylook up on Batterycharged.co.uk.
The copper coloured top is one of the most recognised brands in the world and with a Duracell car & automotive battery you can be sure that you have bought the best. The Duracell name stands for the ultimate durability and life, maximum power in extreme situations and continuous product development. Modern vehicles make massive demands on starter batteries and Duracell car batteries are constructed to deliver maximum performance and reliable starting every single day in all conditions.

The Duracell car & automotive battery range includes the entry level "Starter" continues through "Advanced" and on to the "Extreme" AGM range. In addition, there are EFB batteries for start/stop applications and the heavy duty "Professional" range for trucks, buses and agricultural vehicles.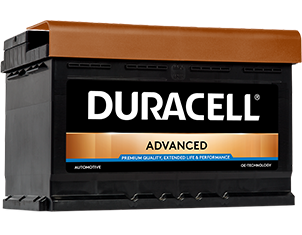 Reliable Starting Power
Safety and leak protection due to a four chamber flat lid with integral flame arrester
Modern Calcium Technology means zero maintenance
Product classification with UK number and EN/SAE cold crank power
Optimum price/performance ratio
If you can't find what you're looking for, please feel free to contact us at your convenience
Call 03300 412 187 and speak to one of our friendly advisors today.
Lines Open: 9:30am - 5:00pm Mon/Fri.