Advanced Dual-Purpose Technology
An ODYSSEY® Battery ingeniously uses unique Absorbed Glass Mat (AGM) TPPL technology to offer, in one package, the performance of two separate batteries. It offers massive deep cycle performance (can be drained over 60% more than any other battery) while still delivering exceptional cranking power to beat any rival.
Traditional old technology battery designs, currently on the market, either deep cycle to provide power for onboard loads or provide high amperage discharges for things like engine starting – they can't do both. That is why modern vehicles and machinery struggle and fail. The answer is the ODYSSEY® Battery AGM-TPPL true Dual-Purpose battery!
This true dual-purpose battery provides engine cranking pulses of up to 2,700A (625-DIN C-1500) for 5 seconds at 25°C as well as delivering over 400 charge/discharge cycles to 80% depth of discharge (DOD) when properly charged.
Why Use ODYSSEY® Batteries?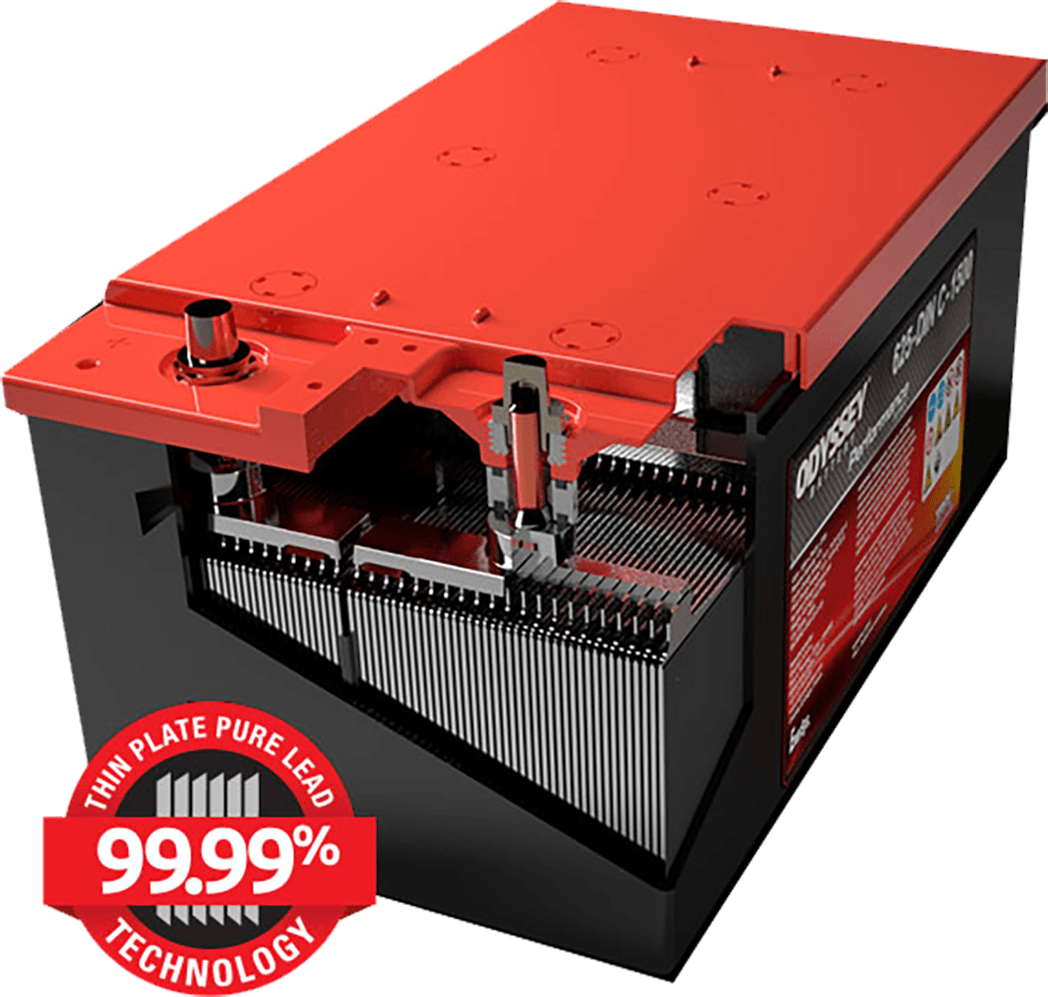 MASSIVE STARTING POWER
Engine cranking pulses up to 2700 amps for 5 seconds.
LONGER SERVICE LIFE
8-12-year design life and 3-10-year service life.
EXTENDED CYCLE LIFE
400 charge-discharge cycles at 80% depth of discharge.
EXTREME TEMPERATURE TOLERANCE
-40ºC to +60ºC for models without a metal jacket, and from -40ºC to +80ºC for models with a metal jacket
VIBRATION RESISTANT
Extreme protection against high-impact shocks and vibration.
VIRTUALLY MAINTENANCE-FREE
Sealed, Absorbed Glass Mat (AGM) TPPL design never requires water.
Can't find what you're looking for?
Call 03300 412 187 and speak to one of our friendly advisors today.
Lines Open: 9:30am - 5:00pm Mon/Fri.