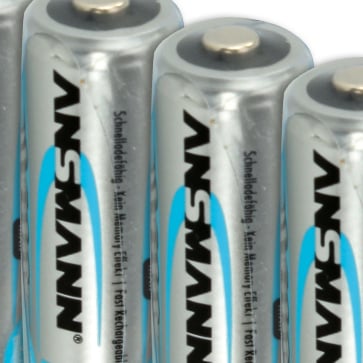 At a Glance
4 x ANSMANN Rechargeable batteries with capacity of 1100mAh. These Rechargeable batteries are supplied with a high capacity, top of the range for ANSMANN. Suitable for flash lights, cameras, medical equipment etc.
High cycle stability
high power
fast rechargeable
increased operating time in electric devices
durable
minimal memory effect
Eco-friendly
no heavy metals
Voltage: 1.2V
Capacity: 1100mAh
Minimum capacity: 1050mAh
Chemistry: NiMH
Cells size: AAA
possible charge cycles: 1000
NiMH Rechargeable batteries are generally used everywhere, even disposable batteries can also be used everywhere. The use of NiMH Rechargeable batteries can reduce costs and protect the environment.